About Us
WHAT WE HAVE TO OFFER AND OUR HISTORY
The Most Magical Wedding Weekend Available!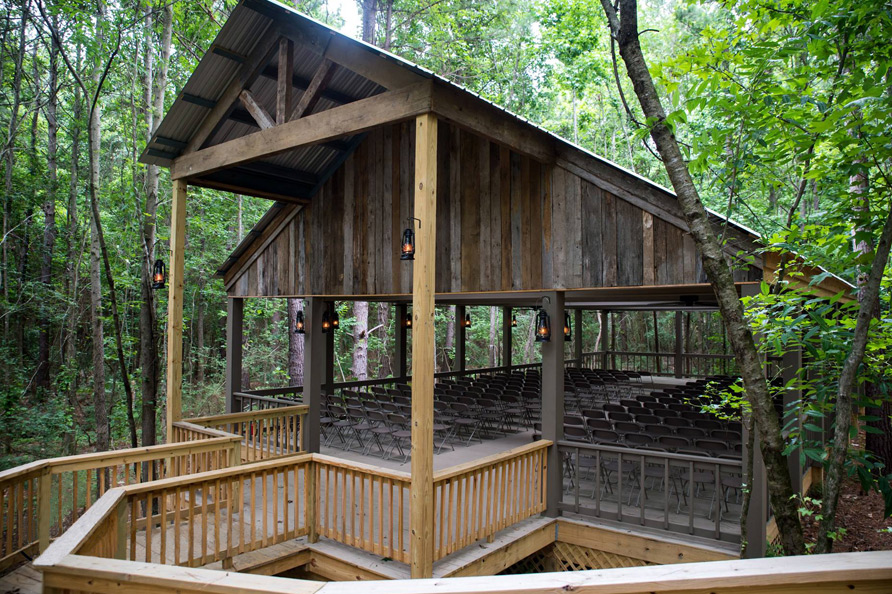 Kingfisher Lodge is a 7,000 sq ft lodge with surrounding amenities custom built with all the features to host the most magical wedding weekend imaginable.  At Kingfisher Lodge, service is the cornerstone for the entire wedding. We are a family business that strives to give you more than you ask for and an unforgettable experience to cherish for a lifetime.
In general, we offer first our main lodge. Our lodge is a 7,000 sq ft building starting with a massive 55' Arkansas field stone fire place to capture images or cozy up to a nice warm fire on those chilly nights. There is a beautiful custom-built bar located along the center of the South wall that can serve your favorite beverage to your family and friends. We offer a 200 seat outside wedding chapel deep in our woods where deer, raccoon's and beautiful song birds will sometimes greet you to add to your magical experience.
Also, on the grounds we offer a 1600 sq. ft "Bunk House" for our #1 guest, the bride with accommodations to host up to 12 of your bridesmaids in our custom-built house, with wi-fi, privacy showers and private bunks. With a bridal suite, gathering room, and the bridesmaid side we feel very confident we will exceed your expectations for the Brides accommodations.
And finally, not to leave the Groom and his Groomsmen out, we have the "Men's Quarters" where the Groom and his Groomsmen can sit outside under their pavilion, gather at their bar, watch their favorite team on one of our three large screen TV's or maybe shoot a little pool on our championship table after his rehearsal dinner naturally served by Kingfisher Catering on our front porch overlooking the pond and listening to the sounds of our fountain spewing water high into the night sky.
Kingfisher also offers a full kitchen and staff for your rehearsal and wedding day catering, bar service, and our own DJ. There is a full-time florist on staff, along with our wedding planners and photographer. We also offer for events and wedding's rentals from sound systems, plates, dishes, popcorn machines to tables and everything needed to complete your day. From our All-Inclusive package, to renting our facilities for a day we are here to help with your personal needs.
How Kingfisher Lodge Began…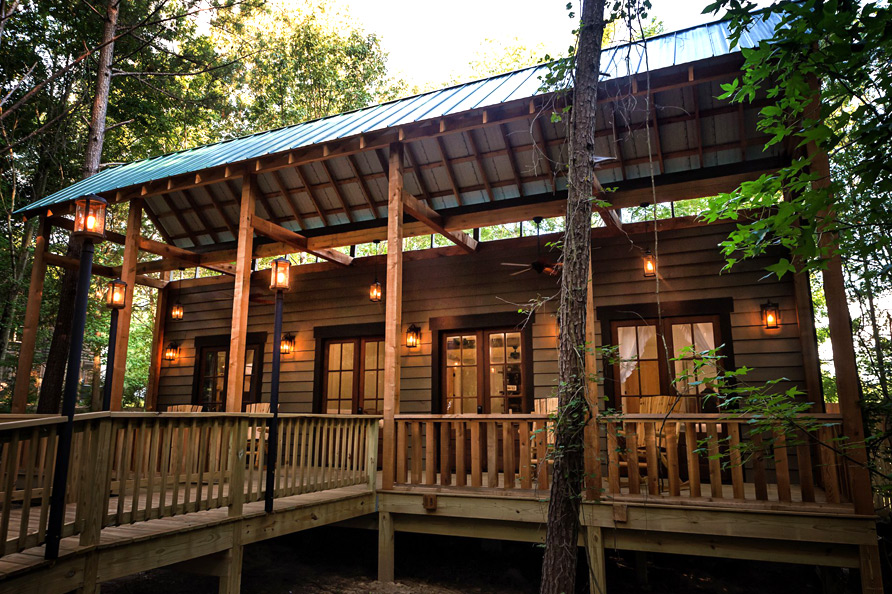 March 22, 2014 history is made. Jordan Metcalfe asks Maggie Pettit for her hand in marriage. After the hugs and kisses a few weeks later Maggie and her parents (correction, her mother) start the task of finding a venue suitable for her wedding. A couple of options were presented to her dad late one night while sitting in the kitchen. After deliberation her Dad was not too thrilled about their options.
Maggie's dad who is a wedding photographer told his wife after deliberating he could build a venue after going over all the options that had been presented that night. Maggie's dad had shot in several venues throughout the south and had talked to his wife on and off approximately 10 years before about building a venue. When Maggie found out the news from her mother, the race was on.
Construction started on Kingfisher the second week in December, approximately two months behind schedule. After unfavorable weather conditions and lack of man power, Kingfisher Lodge opened with it's first wedding on June 13, 2015 on a rainy wet Saturday. The Wedding between Maggie Pettit and Jordan Metcalfe. Thank goodness no one looked on the back side or they might have seen walls without paint.
Approximately fourteen months after the opening, Kingfisher has been steadily upgrading its facilities. The first upgrade was the beautiful Chapel in the woods, then the 'Bunkhouse', and next came the 'Men's Quarters'. Since the conception of the Lodge, Kingfisher has been awarded for its beauty and service.
Kingfisher Lodge will always continue to grow with many future plans of expansion and improvements to better enhance the experience for the Bride and Groom, and for their family and friends who come to Kingfisher.